Disclaimer
De meningen ge-uit door medewerkers en studenten van de TU Delft en de commentaren die zijn gegeven reflecteren niet perse de mening(en) van de TU Delft. De TU Delft is dan ook niet verantwoordelijk voor de inhoud van hetgeen op de TU Delft weblogs zichtbaar is. Wel vindt de TU Delft het belangrijk - en ook waarde toevoegend - dat medewerkers en studenten op deze, door de TU Delft gefaciliteerde, omgeving hun mening kunnen geven.
Posted in
October 2011
It's exam period. Yeah, I know it sucks. But it's not that
bad. Hey, at least I have time to write this blog J. To keep things in context I'll
talk about the TU Delft Library today. Don't just leave yet! It's interesting.
For starters, the library here is a, well, architectural
marvel. It has a sloping grass roof (real
grass) and is covered with reflective glass on three sides. The top of the
grass slope is pinnacled by a concrete-metal cone which I call, umm, 'the cone'.
Picture it? This might help
On the inside, you wonder how the hell it managed to be so
spacy! It's really quite huge. And, not going by convention, there aren't
endless rows of shelves decorating the main hall. The books, and there are a lot, are confined to one side thought
that one side is three storeys high. The rest of the main hall is dotted with
study tables. I prefer this kind of a set up since you don't feel a towering
presence of monolithic shelves and you can study with a free mind J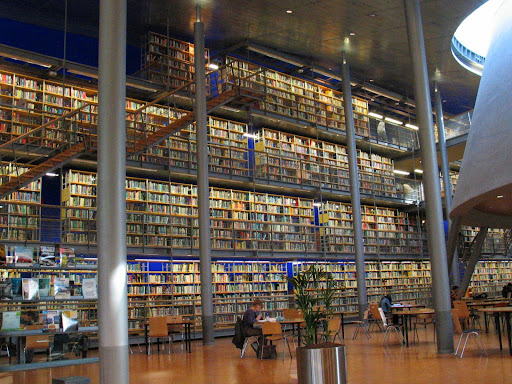 Apart from the main hall, the library houses quite a few
study rooms. They are excellently sound proofed and have quite soothing wall
art that enable you to be more relaxed even under the immense pressure of
exams. For instance, In the study room 'Asia', you might just get the feeling
that you're studying in a sunlit Asian market. Never imagined that did you? J 
Then there's one section reserved for silent studying. Okay it's
a library and you're supposed to be silent. But we're only human J. So for the hard-core
students and people like me that get distracted easily, the silent room is
quite a haven though you do get to hear the occasion loud sigh of relief or
frustration. I've got my money on the latter J.
 There's a 'no phones no food policy' but
there's a mini café area in the library itself. Though on sunny days I prefer
lying on the grass roof and talking to friends (when I'm on a break of course J).
If there's one drawback then it's the lack of space to accommodate
everyone especially in the exam periods. I'm actually studying in another
building called 'The Fellowship' at the moment since I couldn't find a place to
park my bicycle let alone find a place to sit inside. Oh the irony. 
But things could be worse. I could not be studying at all!
Good luck to those with exams right now! 
Tot Later